Proven for Chronic Migraine for 10 years*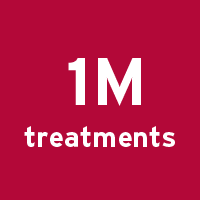 Over 5 million BOTOX® treatments used to treat over 850,000 people with Chronic Migraine*
The #1 prescribed branded Chronic Migraine treatment†
Where's my nearest Chronic Migraine specialist?
Finding one who's right for you could be an important step in managing your treatment.
Keep Chronic Migraine in check
Stay connected and sign up for free tools and resources like our Doctor Discussion Guide. Because when you understand your symptoms better and talk to your doctor, you can take charge of the conversation.
Take our Chronic Migraine Quiz.
It's quick! Just 7 questions.
It could help you find the right treatment to take on Chronic Migraine.
Be sure to share the answers with your doctor when you're done.
What do you think of our website?
What do you think of our website?
Take a 7-second survey to let us know what you like and how we can improve.